Stryker
in Germany

Author: Walter Böhm
Editor : Perfect Scale Modellbau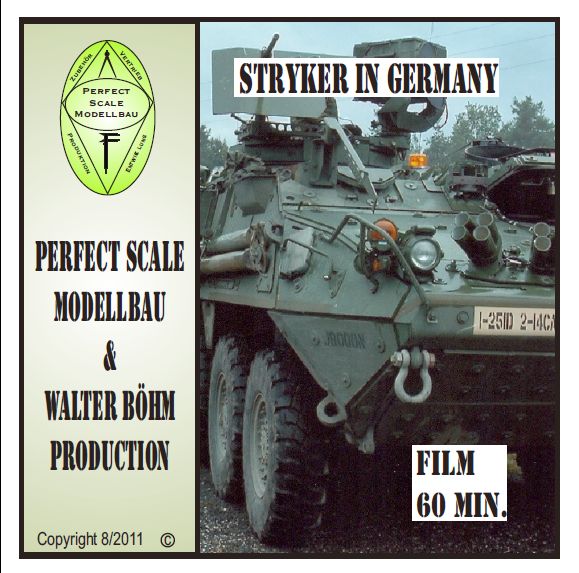 This DVD is the fourth in the PSM series dedicated to modern armored vehicles. This time, we get 70 minutes of video footage (unlike what is written on the DVD cover) showing 7 Stryker variants plus some more US Army vehicles.
Content

As usual, this DVD is a succession of sequences of variable duration taken during FTX's in Germany between 2005 and 2010.
Aside the 2nd Stryker Cavalry Regiment which is starred in the DVD, the other unit shown in the video is the 2nd Squadron-14th Cavalry Regiment/25th Infantry Division.
The following Stryker variants are covered in the DVD : M1126 Infantry Carrier Vehicle, M1127 Reconnaissance Vehicle, M1128 Mobile Gun System, M1130 Command Vehicle, M1132 Engineer Squad Vehicle, M1133 Medical Evacuation Vehicle and M1134 Stryker Anti-Tank Guided Missile.
The M1126 is the variant you will see the most all along the DVD. However, the M1132 benefits from a dedicated sequence taken during the exercise Engineer Breach 2009 in which you can see the full range of engineer arrays that are fitted to the M1132, that is the angle mine plow, the light weight mine roller, the straight obstacle blade and the MICLIC trailer. Unfortunately, the MICLIC system is not shown in a firing sequence.
The M1127 sequence has nice close views of the LRAS3 in action.
Among the most interesting scenes, we can notice the refueling or the field recovery of a Stryker by a HEMMT wrecker.
The other vehicles that are also present in the DVD are mainly the HEMMT fuel tanker, the HEMMT wrecker, the MaxxPro MRAP and the FMTV 5tons truck.
Technical data

As usual, the DVD comes in the PAL standard. The menu has a single option as there is no bonus track : the 70mn film. The various sequences come with a specific transition with sub-titles displaying the unit name, the location and the period when the video was taken and of course the Stryker variant name.
Conclusion

This DVD is certainly one of the best in the series so far. It can easily draw the interest of the modelers involved in the building of the variants present in the DVD. As a side note, the fact that the footages were taken in Germany only results in the lack vehicles fitted with slat armor. Let's hope PSM will fill this gap in their next volume.

I would like to thank Christopher Noone for the review sample.
---