M1A1 Abrams in Germany Part1

Author: Walter Böhm
Publisher : Perfect Scale Modellbau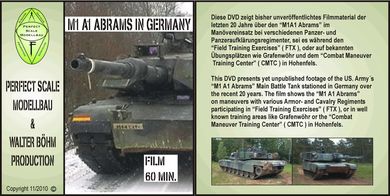 This DVD is the second of the series that PSM have just released. It shows 60 minutes of footages of the US Army M1A1 in service in Germany.
Content
In the same way as the first DVD dedicated to the German Leopard2A5/6, it consists in a succession of sequences of variable duration showing the Abrams during exercises in the field or in military camps (mainly Grafenwöhr and Hohenfels).
Twelve units are represented among which one sports the OPFOR markings and only another one has tan painted tanks. Two units belong to the cavalry while the others are tanks units.
Among the most interesting features in this DVD, we can mention the two sequences showing gap and river crossings over engineer bridges, the sequence with a M1A1 boarding a M1070 HETS tank transporter and another one with tanks boarding a train at the end of an exercise. The logistic and maintenance aspects are not omitted as demonstrated by the removal of the turbine engine by a M88 and the refueling during a FTX.
In a number of sequences, the Abrams are accompanied by some of their well known stalemates, to name a few: M2 Bradley, M88, M113, HEMMT. Some tanks are also fitted with mine rollers or mine plow.
Technical points
The DVD comes in the PAL standard. The menu has only one option: the 60mn film. The various sequences are separated by an artistic transition and the opening views have a sub-title displaying the unit name, the location and the period when the video was taken.
Conclusion
Once again, the modeler will be pleased with the DVD as he will have plenty of decoration and diorama ideas. Those who like covering their models with crew gear will certainly be delighted by some inventive crews!
Another job well done from Perfect Scale Modellbau.
Thanks to Christopher Noone for the review sample.
Index
---