Leopard 2A5/6 in Germany Part1

Author: Walter Böhm
Publisher : Perfect Scale Modellbau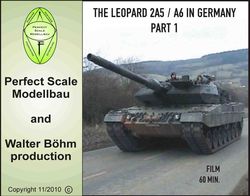 Perfect Scale Modellbau have released the first volume of what should be a new series of DVDs fully dedicated to modern armor.
This first DVD covers the Leopard 2A5/6 in the Bundeswehr service and is a collection of footage with live soundtrack but without additional comment.
Content
In the DVD, you get 60 minutes of videos of Leopards plus a bonus track showing Leclerc MBTs during a combined exercise in Germany.
The Leopard videos show tanks from 7 different Bundeswehr units in various locations and situations and in any season. Some close-up views give the opportunity to have a look at unit markings which could help the modeler to customize his own model.
The majority of the videos show tanks during field training exercises in the German countryside or in military camps like Grafenwöhr. Many footage display tanks with the laser combat simulation system fitted on. The German crews' ability to camouflage their tanks is clearly shown with standard camo nets, tree branches or the famous shadow camouflage.
We also can see tanks firing while on the move and others in a more classical way shooting while being static on firing ranges.
Some nice sequences in the motorpool give the opportunity to see the Büffel ARV variant towing a disabled tank or lifting the engine. The Keiler (demining tank) and the BeobachtungPanzerArtillerie Leo1A5 (artillery fire observation tank) are also the "guest stars" of short sequences.
Technical points
The DVD comes in the PAL standard. The menu has two options : the 60mn film and the bonus track. The various sequences are separated by an artistic transition and the opening views have a sub-title displaying the unit name, the location and the period when the video was taken.
Conclusion
The DVD is really nice and would satisfy the modeler who wants to build an original Leopard with specific markings or a particular camo. The numerous different situations are also nice ideas for dioramas.
Even if the DVD is not intended to be a documentary, comments are sometimes missing. Having some would certainly be useful to the ones not so familiar with the Leopards. A menu giving the possibility to reach a specific sequence or unit would probably be a plus.
Despite these minor remarks, this DVD is highly recommended and the second volume is already eagerly awaited.
I would like to thank Christopher Noone for the review sample.
Index
---