Leclerc in Germany

Author: Walter Böhm
Editor : Perfect Scale Modellbau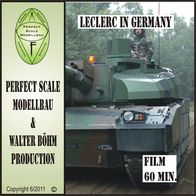 This DVD is the third volume in the series PSM started some months ago. This time, we get 60 minutes of video footage showing Leclerc SXXI MBTs belonging to the 6/12 regiment de cuirassiers during a maneuver in Germany plus a Belgian army bonus.
Content

Like the first ones in the series, this DVD is a succession of 6 sequences of variable duration showing the Leclerc and the VBL at the parking and in the field in the German camp of Bergen Höhne.
One single unit is present as the footage was made during a single joint exercise with the Bundeswehr in 2008.

In addition to some views taken from unusual angles, the interest of this DVD is to show the latest variant of the French MBT.

In several sequences, the Leclerc is seen with some VBL, DCL (Leclerc based ARV) and resupply TRM 10000 trucks. We also can see Leopard 2A6.
Among the most interesting scenes, we can notice the refueling or the field repair of a track with the intervention of the DCL. A long sequence has been taken from a vehicle on the move so giving some shaking images that compromises the overall quality.
The bonus track shows in 10 minutes or so the Belgian Leopard 1A5 on the firing range and in the field in Germany. We can also briefly see some M113 and one AIFV C25.
Technical data

As usual for this third volume, the DVD comes in the PAL standard. The menu has two options : the 60mn film and the bonus track. The various sequences come without specific transition unless in the bonus track where the opening views have a sub-title displaying the unit name, the location and the period when the video was taken.
Conclusion

Videos of Leclerc MBT on exercise are pretty rare which makes the main interest of this new DVD.
Nevertheless we can regret the quality of the images in some sequences resulting in this volume being under the first ones.

I would like to thank Christopher Noone for the review sample.
Index
---