Italian AFV B1 Centauro Long Version

ref : Model Victoria# Cod 002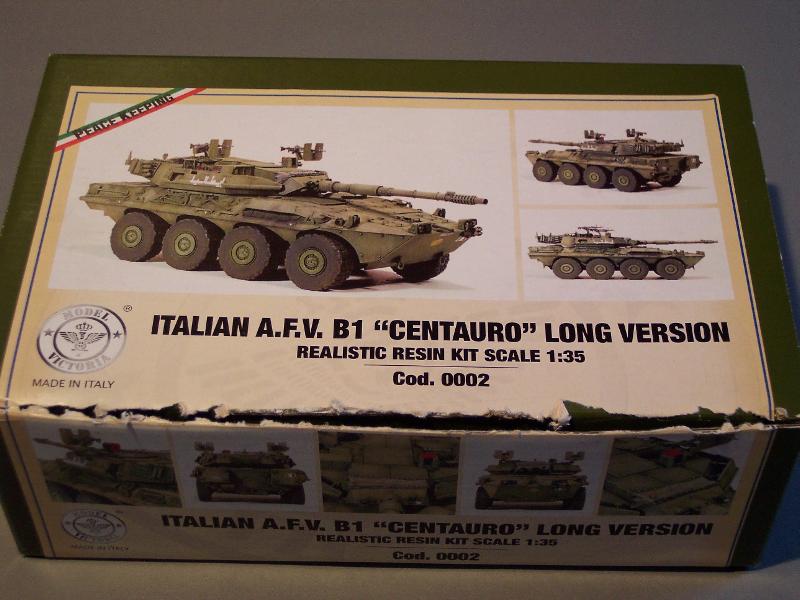 This is a in-box review of the second resin kit produced by this manufacturer. The first one represented the early version.
The kit comes in a cardboard box illustrated by various pictures of the complete model. There are approximately 140 resin parts, 50 photoetched parts, a large decal sheet, two pieces of brass rod and one of copper rod. The instructions come in a A3 sheet folded in its center with black and white very clean pictures of the model.
The main parts (hull and turret) are wrapped with air-bubble sheet, the smaller are gathered in re-sealable bags. Apart from the large parts, all the parts are on a sprue with a number to help identifying them on the instructions. The cast and the details are of the highest quality. There is literally no flash to remove and despite the size of some parts, there are almost no air bubbles. Model Victoria has finely represented the anti-slip coating and the "waffle cloth" look of the turret side add-on armor.
The fit of the larger parts is good and just requires some sanding of the cast seam. The main concern area will be the running gear which looks very complex with 8 axles and a lot of shafts, shock absorbers and so on. A thorough study of the instructions and some dry fitting will be necessary.
The turret will require some attention too and more specially the side add-on armor panels as the instructions are not clear about the location off their brackets. The stowage baskets are represented by brass and copper wire. Fortunately, Model Victoria provide us with jigs to help shaping the rods. As the kit represents the version of the Centauro deployed in Iraq, the add-on armor plates are issued as well as the MG shields.
The hull and the turret are cast hollow and the hatches can be set open or closed so it remains possible to scratchbuild a basic interior.
The photoetched parts are a bit thick but the folding lines will help shaping them whenever necessary. The flat PE grab handles could be replaced by brass wire ones.
The large decal sheet allows to represent 9 different vehicles serving during the Italian operations in Iraq, in SFOR and in KFOR. The decals are shiny and a little thick. Beside the unit markings, all the service stencils are present in black and in white, Model Victoria advising to use the black ones.
The following pictures depict the content of each bag.
This is a excellent kit which highly recommended to the modern armor fans willing to build an original model or give a stalemate to the Trumpeter Ariete.
Index
---