SP Designs TOS-1 conversion
ref #119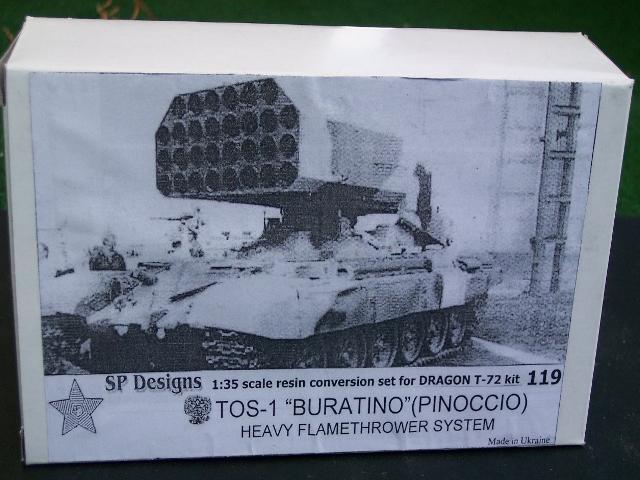 The TOS-1 also known as Buratino is a multiple rocket launcher mounted on a T-72 chassis. It has been designed to fire thermobaric rockets at a range of 400 to 3500m. It is also referred to as a heavy flame-thrower system.
It entered service with the Soviet army in early 80's and saw combat in Afghanistan. It has been improved in 2001.
The conversion kit is issued by SP Designs of Ukraine. It represents the early variant and is recommended for the Dragon T-72 kit. It consists of the new turret and some modified parts in replacement of the kit ones.
It comes in a cardboard box in which are 31 parts casted in a soft pale yellow resin. The parts are protected by a air bubble plastic bag. However, my kit had two main parts broken.
The cast is correct and few flash remains. Some air bubbles will require some filling and sanding work. The detail is average, some parts being wrong shaped when compared to real vehicle pics (rear stabilizers).
The notice comes in two A4 sheets with hand drawings. It is generally clear but lacks some accuracy as far as the location of the parts on the front plate are concerned. A thorough study of pics of the real vehicle will be helpful.
The preparation consists in removing the cast "sprues", the remaining flash and cutting the portions of the front sponson according to the notice to fit new sponson boxes on both sides.
Dry fitting shows some fitting trouble especially for the launcher pod. It comes as a hollow part with a "plug" at each end. My kit had 2 identical "plugs" whereas the rear one should be different. The 3 parts do not align properly and will need a lot of sanding to achieve a perfect fit. Some rivets need to be replaced.
The turret perfectly fit the Dragon turret hole. To enable the rotation of the turret, a strip of plastic will be added under the turret ring (in the way the tabs work with the original kit turret).
The rear stabilizers will be modified to have the correct shape. The connection with the round parts in contact with the ground (when in firing position) must be corrected too.
SP Designs gives a decoration scheme in the 3-tone pattern ; black, green and sand. No marking are issued but few are visible on the real vehicles. Sometimes appear a 3 digit number on the launcher sides.
This kit will build in an original and interesting variant of the T-72 tank. Some work is necessary to get a faithful representation of the early vehicle (and more for those willing to have the late variant). It can be recommended for those who like exotic kits in their collection. Despite some flaws, this kit is worth the money you'll spend.
---