T-90S
Ref : Italeri #251
Terres Modeles T90S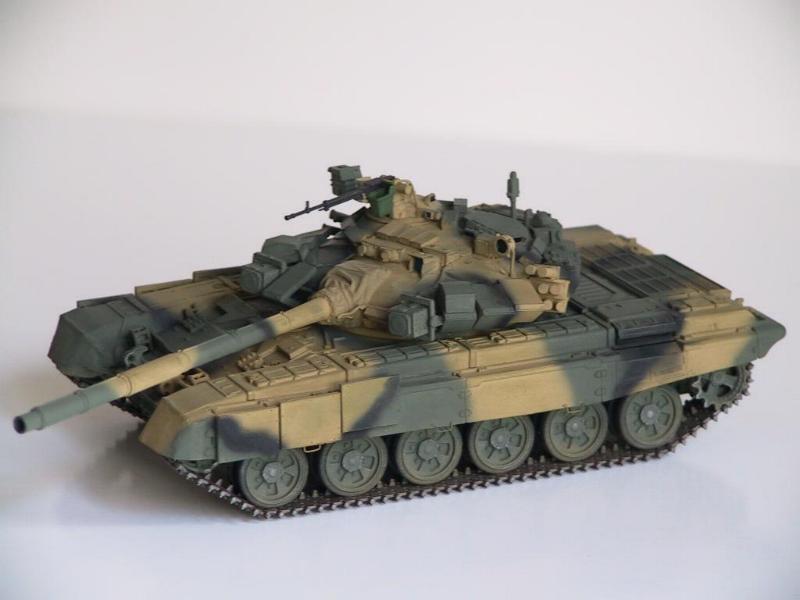 The T90 is the ultimate T72 version. After the first Gulf war, its designers found it sensible not to name T72 due to the poor performances of this MBT during the fights. However, it is just an evolution of the T72BM from which it only differs by the adoption of the anti-missile protection system Shtora which is characterized by the IR emitters on either side of the 125mm gun.
The kit is a conversion by Terres Modèles on a Dragon basis. TM provides with a new turret, gun and the supplemental frontal and lateral armor plates. The ERA bricks are obviously included as well as the new smoke dischargers and the cradle for the NSVT 12.7mm MG. The detail is sharp.
It is a real pity that the manufacturer omitted the new stowage bins which are definitely different from the T72 ones. Another flaw in this conversion is the lack of the new front mudguards but this is easy to fix. The front glacis armor plate is wrong. In fact, on either side of the driver hatch, it should be inverted V shaped. In reality, the Shtora emitters are linked to the main gun, you will have to reproduce all the connecting system.
The main difficulty with this kit is its useless instruction sheet. It is a dark photocopy of pictures of the built kit without any single explanation. So the building is blindly done, and without a solid documentation you are sure to do some mistakes. That is what happened to me since the roof ERA bricks are ill-positioned. Meanwhile, having got the excellent book about the T72/T90 published by Concord , I intend to correct those mistakes.
---