SA-6 Gainful

Ref : 5 Star Models #35004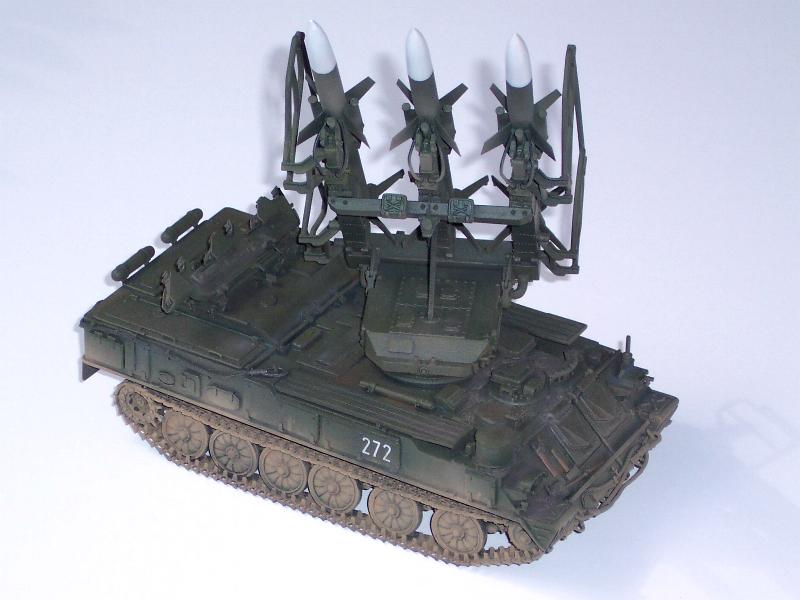 The SA6 Gainful a.k.a 2K12 Kub is a mobile AD system capable of destroying any aircraft flying from 3700m to 24000m up to an altitude of 12000m. It is associated with the Long Track acquisition radar and the Straight Flush fire control radar.
The missile guidance is a radio command with a semi active radar terminal homing.
The vehicle is NBC proof and fitted with a IR night vision device. It is not amphibious.
The kit is produced by 5star models, a Polish brand distributed by Jadar. It comes in a cardboard box, the parts being wrapped in an air-bubble foil. In addition to the resin parts, two photo-etched parts frets from Part, one decal sheet for a Polish army decoration and tow cables from Karaya are issued in the kit.
The carving and molding are correct. Some air bubbles need to be puttied, some parts need to be straightened with an hairdryer, others replaced by plastic card ones.
The instruction leaflet is clean but not always clear. In fact, the parts are not numbered and their proper location on the kit not spotted. So a good documentation is helpful to avoid mistakes.
Nonetheless, the building remains simple with the exception of the running gear. The PE parts in that area prove unusable. The tracks come in lengths and separate links. The manufacturer provides with more than needed. Their quality is noticeable with quite no molding flash.
Once this obstacle has been tackled, the kit shows no major difficulty.
The PE is not of the same quality level. A lot of parts are oversized, thus being useless. Some can be replaced by lead foil like the tool straps. The wingnuts come from a Legend set.
To complete the kit, the cables between the missiles and the firing ramps need to be done as well as two towing eyes at the rear of the vehicle.
The only flaw with the kit is its accuracy. In fact good pics show the mistakes done by the manufacturer as far as the size and location of the various hatches on the sides are concerned. Supplemental work for the braves !
For the painting, I sprayed a base in XF65 Field Grey with a pre-shading in XF26 Deep Green. Then, I applied several layers of XF67 NATO Green and XF58 Olive Green. After a wash made of black and Sienna burnt earth oil colors, some highlighting effects have been applied with oil paints.
The weathering has been made with a veil of XF60 Dark Yellow and XF57 Buff. The tracks are painted F69 NATO Black then dusted with the previous mix. Some pastels have been used to avoid a monotonous green shade.
To conclude, I would like to thank David Keeley for the valuable help he gave me through his website http://davehal9000.tripod.com/tankista2/index.html
---