BTR-T M1997
Ref : SP Designs #090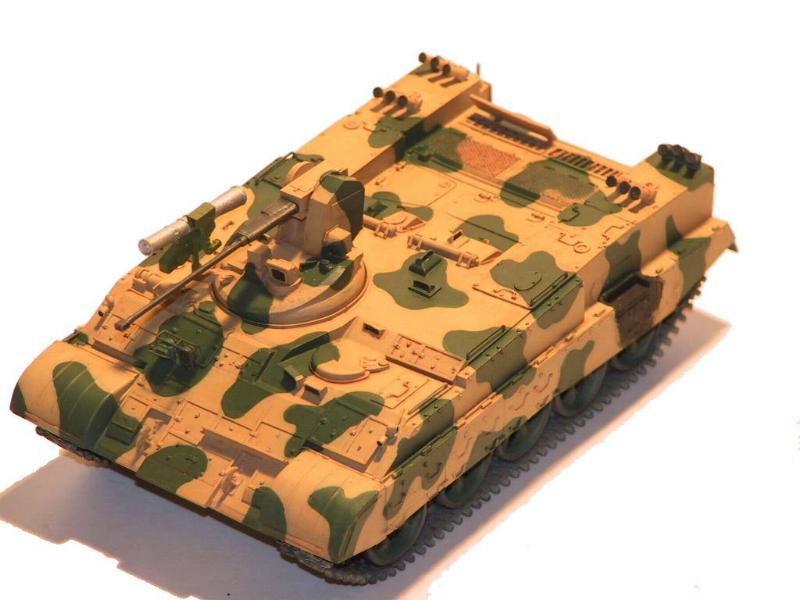 Stemming from the Chechnya conflict, the BTR-T is a derivative of the venerable T55. It is designed to the support of infantry troops in urban warfare. It is armed with a 30mm automatic cannon 2A42 with a great elevation capacity. A version simply armed with a 12.7mm NSV MG, known as DPM, is designed for the reconnaissance missions.
As yet, those vehicles are not in operational service.
The BTR-T opened the way to the BMP-T using the same concept on a T72 chassis and to the Ukrainian BMP-T84. No doubt that it has been inspired by the Israeli Achzarit.
The kit is issued by SP Designs. It comes in several bags to protect the parts. Straightaway, the tracks and the sprockets have been replaced by the Friul set dedicated to the T72 as though derived from the T55 chassis, the BTR-T does not employ those elements.
The carving is correct and the molding suffers from micro bubbles very badly located from time to time. Nearly all the rivets and bolt heads have been replaced due to these bubbles. One piece of the right side skirt which was too short has been made from styrene sheet.
The main difficulty is the chassis. In fact, SP Designs used as a master the Lindberg T55 chassis and reproduced the Tamiya T62 roadwheels. This results in the impossibility of fitting the wheels as they overlap each other. The suspension arms had to be shorten by 4mm while the rubber band of the roadwheels were thoroughly sanded.
The turret is fitted with a Modelpoint cannon much nicer than the kit one. Like on the Shturm kit (of the same manufacturer), the missile had a very uneven surface. The AT4 firing post is simplified but constitutes a good basis.
Unusually, the manufacturer gives no detailed decoration scheme. The chosen decoration represents that of the demonstration vehicle seen in the armament shows all over Russia.
---