BRDM-2
Ref: Dragon#3513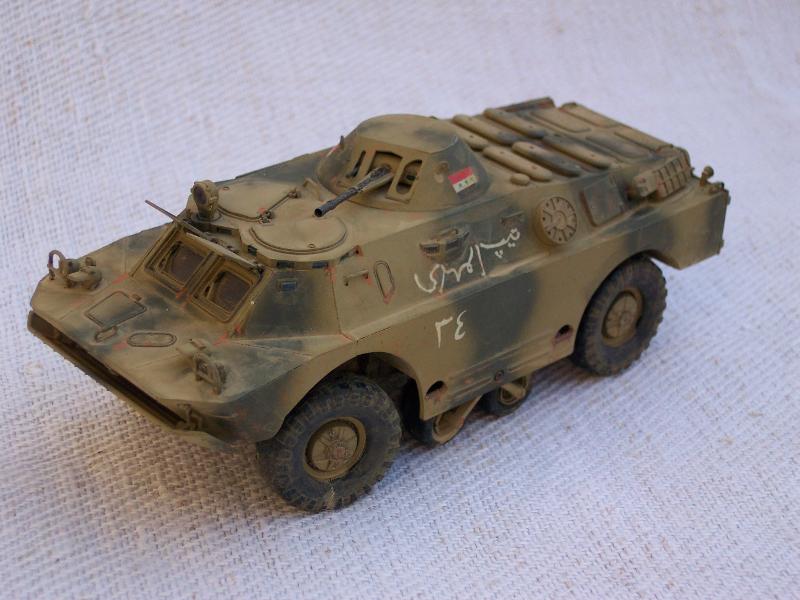 The BRDM-2 is the successor of the BRDM-1 scout armored car. It has been manufactured from 1966 to the late 70's. Like the BRDM-1, it has a pair of retractable wheels on each side to increase the cross-country mobility. The standard version is fitted with a small conical turret mounting a 14.5mm HMG and a 7.62mm coax MG. Its equipment includes a NBC system, night vision devices and swimming capability. It has a crew of 4.
It has derived many variants of which a NBC recon vehicle, an AT version and an AD version.
This versatile vehicle has seen combat in many conflicts all over the world. It is still in service with numerous armies.
The kit is released by Dragon and comes with 4 sprues, a separate lower hull, 4 rubber tires, a clear plastic windshield and a sheet of decals. The 8-page instructions are clear. The building is divided into 8 steps plus the decoration. Dragon have provided decals for 6 vehicles from 5 countries.
The building starts with the lower hull and the running gear. The front wheels are moveable and the belly wheels can be shown raised or lowered. The suspension is not functional. The rubber tires looks good with a nice carving but they tend to split away with the time. There are not many solutions to fix that except gluing the split tires with CA or replacing the wheels by resin ones.
The upper hull is an easy build. You just need to avoid any glue marks on the clear plastic windshield. The armored shutters hinges are oversized to have them moveable. You can remove them and redo thinner ones with some pieces of rod.
At the rear, the exhausts need some detailing like the drilling of the pipes ends. To get a far better rendition, you may sand the interior to keep just the cover and redo the muffler from plastic card.
The turret is quite simple. The MG muzzles are drilled. Only the part #C9 needs some care to perfectly fit the turret body.
The decoration depicts an Iraqi vehicle. The basic color is Tamiya Desert Yellow with large stripes of Dark Green. The weathering spraying some Desert Yellow highly diluted with water over the vehicle. The tires are sanded to remove the glossy look then weathered in the same way as the vehicle.
Apart from the rubber tires which can be a problem in the long term, this kit is a good one quite easy to build and giving a faithful rendition of the original.

Index
---