BMP-3
Ref : Skif#204
Modelpoint #MP-RC301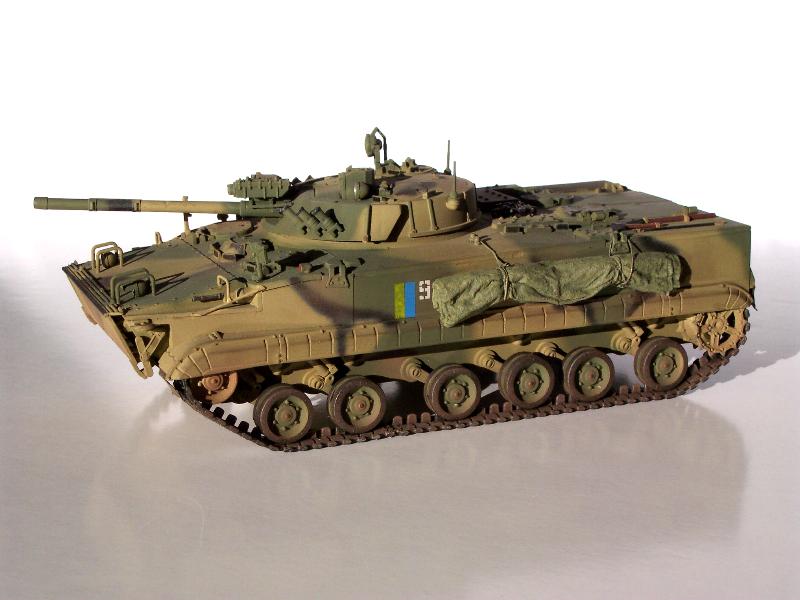 The BMP3 is the latest born in the BMP family. It benefits from an increased mobility and a firepower far superior to its predecessors thanks to its turret equipped with a 100mm gun capable of firing missiles, a 30mm automatic cannon and a 7.62mm PKT MG. It has also 2 PKT installed inside the hull front.
The BMP3 is in service in Russia, in Ukraine, in Cyprus, in South Korea and in the UAE. It has numerous variants : the BRM3 reconnaissance vehicle, the 2S31 self-propelled mortar, the BREM-L recovery vehicle, the 9P157 et 9P162 antitank vehicles and the DZM combat engineer vehicle.
The kit is issued by Skif. The instructions comes as a 12-page booklet. The kit comprises 5 sprues plus 1 vinyl sprue for the tracks, the mudguards and the towing cables. A decal sheet permits one decoration for Russia and Ukraine and offers one decal for the dashboard.
The building is easy. A simplified interior is provided, it can be improved with the help of some pictures. The rear doors and the troop compartment acces are detailed thanks to S.Zaloga's book in the Concord Mini Color Series. The mudguards are replaced by lead foil ones, the front MG protections are made of metal wire.
The unditching log and the towing cables are set apart. The eyes on the hull sides (98B) are drilled.
All the openings can be presented either opened or closed as well as the large roof hatches. The latter are opened to enable the access to the troop compartment. When the rear doors are opened, don't forget to lower the steps (88C et 89C).
The decoration follows the scheme provided by Skif. The used paints are Humbrol 93 (sand), Humbrol 86 (green) and Humbrol 33 (black). The rolled blanket comes from a Modelpoint set which carving is very realistic.
---