BMP-1
Ref : Italeri #256
Resin interior #AEF Designs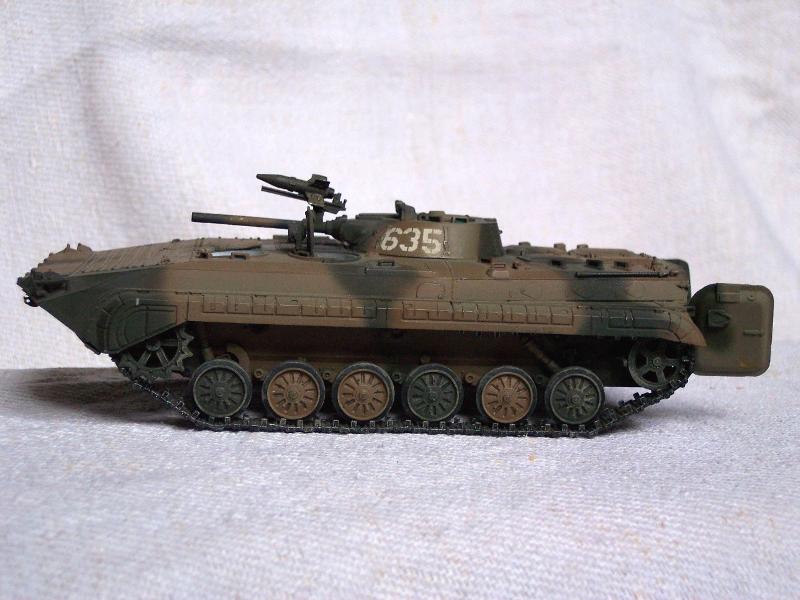 The BMP-1 is the first true infantry fighting vehicle enabling the section to fight from inside. It has been developed in the 60's and entered service in 1967.
It mounts a one-man turret armed with a 73mm low pressure 2A28 gun, a 7.62mm co-ax MG and an anti-tank missile post firing the AT-3 Sagger aka 9M14M Malyutka.
It has a crew of 2 and carries a section of 8.
The BMP-1 has been produced in large quantities and is still in service with many armies.
The kit is released by Italeri n co-operation with Dragon. It comes with 2 sprues, a separate hull and 4 individual track links sprues. The instructions are clear and split in 8 steps.
The cast is good but the details are "thick". The hatches hinges are oversized as Italeri have them moveable. The vision ports are hollow and their edges too thick.
The build is uneasy due to some fit trouble, especially with the hull halves. The individual links require a thorough preparation to guarantee a perfect fit.
The interior set requires the sanding of the hatches axis interior bulge as well as the turret hole enlargement. The many parts perfectly fit especially the engine compartment walls. The vision and the firing ports are provided and the bench seats too.
The driver station is detailed with his seat, the dashboard and the steering control. The build is easy.
The turret is harder to assemble. We need to properly align the floor with the ring then the upper part. The instructions are clear but the number of parts to get aligned turns this tricky.
The gun, its breech and loading system are detailed. No painting instructions are given and a goon documentation is needed to avoid any mistakes.
The rear doors are detailed with their integrated fuel tanks and fit well to the Italeri rear wall.
The painting scheme is one sometimes seen during the Afghanistan campaign : overall tan with large green patches.
---