BMD-1P
Ref : Skif#223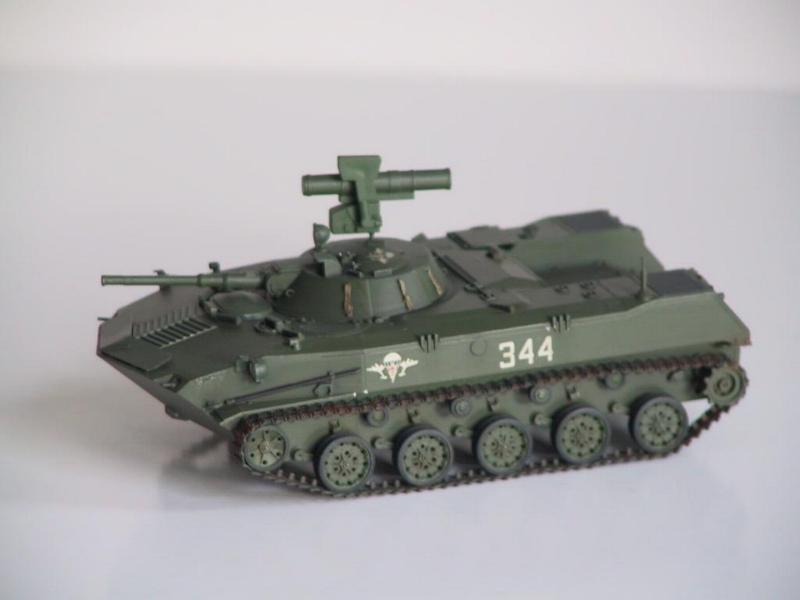 The BMD-1P is the first amphibious armored vehicle specially designed for the airborne forces. It can be dropped at an altitude from 300 to 1500m. Entered in service in 1978, the BMD-1P is an upgraded version of the BMD-1 from which it differs by the replacement of the AT3 Sagger (Malyutka) firing post by the newer AT4 Spigot (Fagot). It is armed with a 73mm low pressure gun identical to the one fitting the BMP-1, an AT missile firing post and three PKT 7.62mm MG's.
The hull consists of a bullet proof aluminum alloy.
Its crew consists of a commander and a driver, it can embark 5 paratroopers.
The kit is produced by Skif. The instructions come with a 8-page booklet. The kit comprises 4 sprues for the main parts, 4 others for the individual track links and 1 photoetched parts plate for the bow trim vane, the headlight guards and the grilles at the vehicle rear. Three decorations are proposed with the decal sheet.
The building starts with the assembly of the 5-part hull which proves easy. A simplified interior is provided, it consists of 6 seats for the crew and a simplified turret equipment with the gun breech.
The hull MGs supports need attention and demand a careful sanded to have the seam perfectly removed. The simplified firing post should be replaced.
As usual with Skif, the photoetched parts are far too rigid which does not ease their shaping especially as the headlight guards are concerned.
The track links assembly is time consuming but easy. The only add-ons to the kit are the straps and the lifting eyes on the turret. The AT4 firing post pedestal has been replaced by a metal rod the strengthen it.
The decoration is the third one proposed by Skif. The main shade is the Prince August Russian Green. The tracks are painted with Tamiya NATO Black then washed with Rust and finally slightly brushed with Tamiya Metallic Gray.
---