T-62
Réf : Tamiya #3608
Airwaves #AFV35014
Friul #A-01
Armour Tracks Models #TK05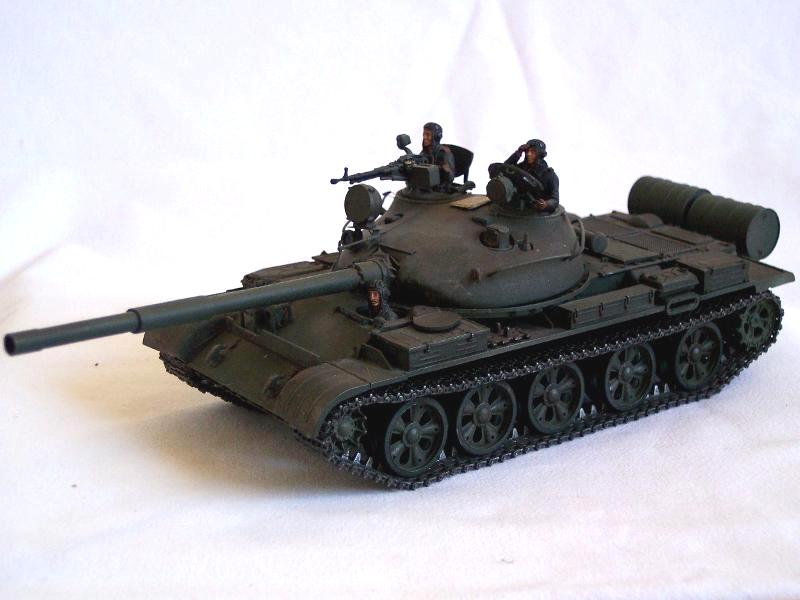 The T-62 appeared in 1965. It is designed with the same architecture as the T-55 it would replace. It can be recognized thanks to the flattened turret, its new main gun with a bore evacuator and a running gear differing from its predecessor one.
Its main armament is the 115mm smoothbore gun 2A20 capable of firing APDSFS, HEAT and HE rounds. Its secondary armament is a 7.62mm co-axial MG and a 12.7mm DShK AAHMG.
The kit is issued by Tamiya and has a number of flaws due to the lack of data about the vehicle when it was released. Indeed, the turret is ill represented and the main gun too large.
It comes with 3 sprues; metal mesh for the engine deck and vinyl tracks. The instructions are simple and clear as usual with Tamiya. A decal sheet enables several Soviet decorations.
The running gear is built without problem. The sprockets and idlers are replaced by the resin ones provided in the ATM set. The individual links come from the same set. Their assembly is time consuming meanly because ATM do not provide axis but just end pins to snap into the links. A lot of care is required to avoid any breaking of the extremities.
The hull is detailed with the Airwaves PE providing the towing hooks lockers, the engine grilles, the exhaust and other details. The stowage bins and fuel tanks straps are added and the handles redone from metal rod.
The turret has been kept even if it exists replacement ones. It gets many PE parts. The gun mantlet is replaced by a thin styrene sheet being shaped to give the typical fabric look. The IR light support is replaced by the one of Airwaves and its power cable added.
The co-ax MG is represented with a bit of plastic rod. The AAMG is set apart and replaced by the much more detailed Friul one.
The decoration scheme is overall green and the resin crew is a Verlinden reference. Despite its flaws this kit is the only one available to represent a T-62. However, some AM manufacturers has released replacement parts (turret, barrel) to improve it and get the most accurate rendition as possible.
---