2S1 Gvozdika
Ref : Skif #206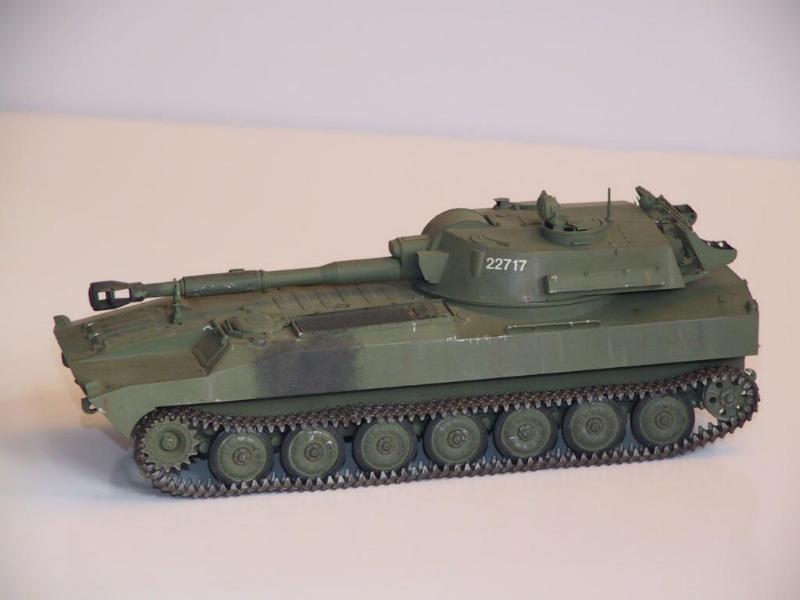 The 2S1 is the Russian army standard howitzer. It armed with a 122mm gun mounted in an armored pillbox. This artillery SP gun has been widely exported and may be encountered in Africa, Middle-East and of course in the former Warsaw Pact countries.
Within the Russian forces, it is still in service but begins to be replaced by the 152mm SP gun 2S19.
The kit is manufactured by Skif. It is provided with some photoetched parts lacking of sharpness. The building is easily done. Its detail level is good and the Eduard set brings a great lot (see the close distance pictures), particularly to the nautical propulsion deflectors. For the detailing sets enthusiasts, Friul releases a set of tracks, Modelpoint a metal barrel and several manufacturers provide resin roadwheels.
The decoration is that of a Yugoslavian federal army howitzer seen while leaving Kosovo in June 1999. The vehicle is evidently lacking maintenance as shows the loose left track. The paint is shaded and somewhere fully blackened. However, the vehicle has very few rust dots as the hull is made of aluminum. The markings come from a dry transfer sheet.
---