Merkava 2
Ref : Academy #1347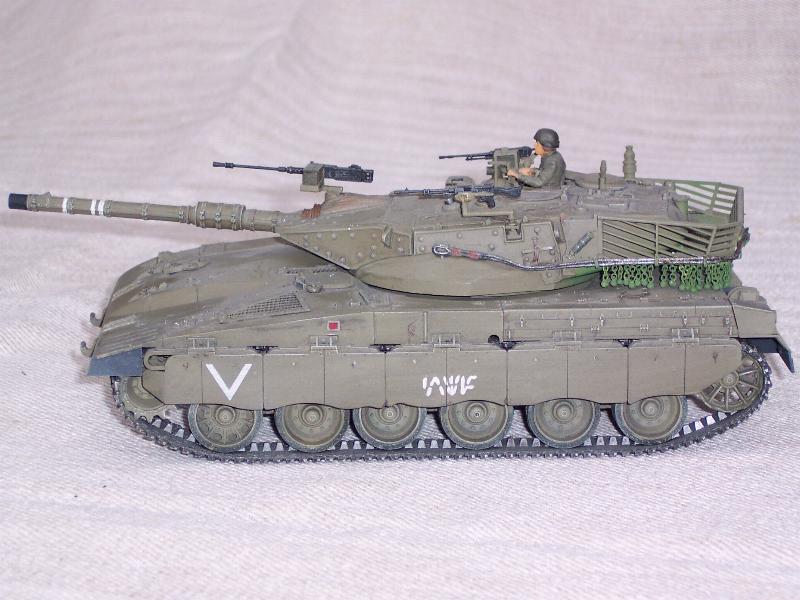 The Merkava 2 entered service in 1983. It is an evolution of the Merkava 1. It is based on the same architecture with the engine at its front hence reinforcing the crew protection. The improvements are as follows : add-on armor on the turret sides and the front of the hull, new side protection skirts, a semi-automatic gearbox associated to a more powerful engine (900 hp instead of 750 hp) and the 60mm mortar served from inside.
The kit is produced by par Academy-Minicraft and seems to be inspired by Tamiya Merkava 1. The photoetched set from Airwaves was used to improve the kit.
The building is easy. The instructions begin by the upper hull and turret assembly. This is in these stages that the photoetched set proves the more useful. It comprises various grilles, tool, ammo boxes and fire extinguisher supports, supports, the turret stowage bins handles and the turret stowage basket floor. The parts are thicker than Eduard ones for example. This can be a problem when bending them.
The towing cable issued by Academy is deleted, just its ends are kept. A new one is made of naval modeling thread. The rear turret cable supports are from the Airwaves set. The anti RPG chains are made of little chain and balls coming from a white metal set of which I forgot the brand.
The skirts are glued to the upper hull and get improved with small photoetched numbers to identify their location.
During the hull assembly, Academy provides us with the possibility of opening the rear hatch ... on a huge empty interior ! Thus this option is set apart.
The running gear comes with separate rubber bands for the wheels which enables an easier painting. The tracks are of the vinyl type but may be replaced by Friul ones.
Academy offers just one decoration. The registration plates decals are the only ones to be used. The remaining markings are painted either with an airbrush or a paintbrush. The overall paint is a mix of Tamiya XF5 Flat green and XF60 Dark yellow. The kit is spayed with a mat varnish before getting a light weathering.

---