M113 ZU23-2 (Lebanon)
Ref : Ironside #M113 w/ZU23-2 AA gun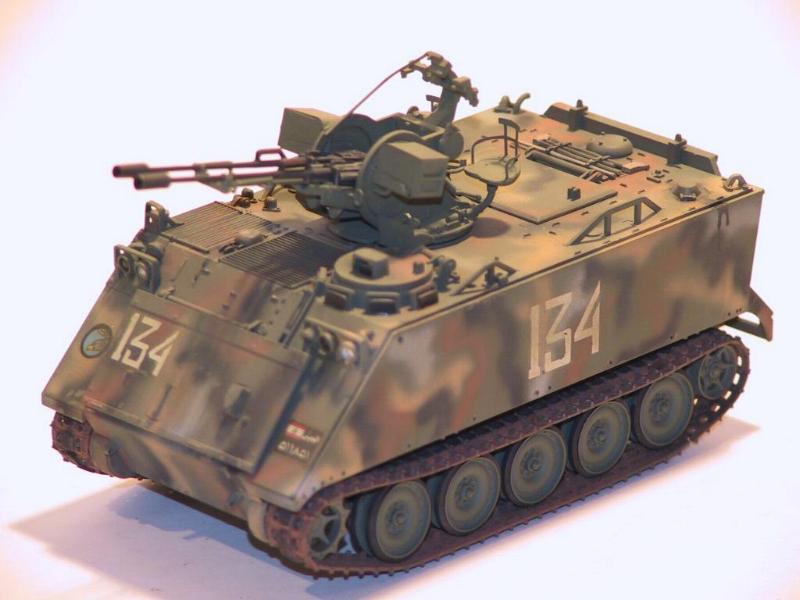 This version is a local fitting of a Russian AA ZU 23-2 gun over a M113 chassis.
The kit is issued by Ironside which as usually associates a basis kit, here the Academy M113, to the necessary parts for the conversion, that is the AA twin-barreled gun and some photoetched and resin parts.
The chassis has been easily built. The twin-barreled gun is more complex as the instruction lack clarity and the Eastern Express original kit is simplified. The muzzle flash suppressors are redone with Evergreen tubing. The mount detailing takes profit of pics published in the special issue of Raids dedicated to the Chechnya conflict.
The decoration (10th brigade) is one of the both proposed by Ironside which provides a decal sheet but no painting scheme. The instruction leaflet sends us to the Concord Mid East War vol2. For the ones attracted by the 8th brigade version, Ironside proposes a template to realize the mount armored protection from plastic sheet.
The final kit can be improved by the use of separate link tracks and the metal barrels from Modelpoint.
---