Cromwell Centurion Shot Kal 1982
Ref : AFV Club Centurion #35122
Cromwell Models Shot Kal 1982#CA139
AFV Club Centurion track set #35102
ADV/Azimut IDF tank crew set #35581
VP IDF tank crew set #529
VP IDF stowage set#1890
VP IDF reg plates #588
Bison decals IDF Cent #35053
Texts, pictures and model by Bill Poon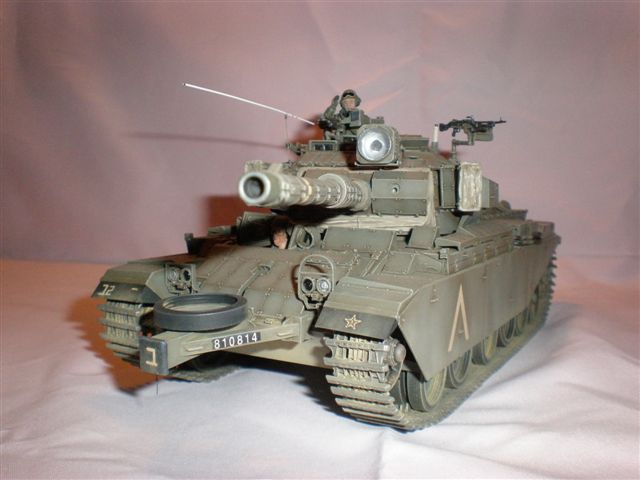 The Tank
The Centurion underwent many changes during his service in the IDF. These upgrades included fitting with a new engine/transmission, smoke-dischargers, a reactive armor suit, a search light, new MGS, turret MGs etc... It retired from service in the late 80's, replaced by another well-known tank series: The Merkava.
The Model
The Cromwell conversion set went on the AFV club kit very well, no big 'surgery' was required, just a couple of small cuttings (a few mms) on both side of the hull were needed in order to fit in the new engine cover. Fitting of the armor array on the glacis plate was easy too, a few bolts on the ERA were missing in my set but it was not hard to fabricate them with some 0.5mm hex-rod. Fitting of the ramming device was a little bit tricky since both 'legs' did not go well with the tow-eyes. I used a hair-dyer to 'heat-up' the Y-shape device and widened the distance between both 'legs' by 2mm to complete the job.
The resin turret was a nice hollow casted object with pivot points provided for attaching ERAs, smoke launchers and side bins, construction was pretty straight forward. The only downside was with the resin turret basket, it was in a funny shape with some bubbles over some awkward positions. However I decided to scratch it with plastic and copper rods, using the original side panels as guards for positioning.
The AFV club Cent track set, in my personal opinion, was not a good set. The material (plastic) itself was quite fragile, I opted to cut off all connecting pins and 'converted' it into a 'non-workable' set, also there're sink marks to deal with………anyway lets not complain due to its price……
Painting
I used the reference material provided in http://idfmodelling.free.fr/article01.html for mixing the 1982 base coat. A very small amount of sandy yellow was added to the base color for highlighting purpose. A few layers of oil washes and filters of various colors were applied, followed by dry brushing and pastel powders to fix everything up.
Conclusion
In my personal opinion, the Cromwell Shot kal set was nicer than both Legend and Azimut offerings, especially with the search light option which was unavailable in both Legend & Azimut sets, although the price was a little higher compared to the latter two. The AFV Club Cent was a great kit too, it's nice to see a manufacturer doing this kind of subject since there're far too many Tigers, Panthers and M4s on the market already.
Bill W.L.Poon
Index
---