VAB sanitaire type 3
Réf: Heller#81130 VAB
Azimut#VAB 4x4 Sanitaire
Blast Models#35001K, 35004K, 35170K
FafaModelKit#
Kit, photos and text by Thierry Bocquel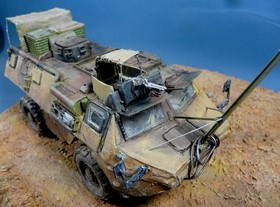 The VAB sanitaire (ambulance) is designed to carry injured soldiers on the battlefield from the collection points to the first aid station. All the features of the basic VAB are present with the exception of the weapon station. The major differences are the addition of a separate A/C and heater unit, searchlights and a casemate with vision blocks to locate the casualties. The troop compartment has also been modified to accomodate the casualties and the medical equipment. The VAB can carry 3 lying wounded or 2 lying plus 4 seated ones.
In Afghanistan, the insurgents regularly took ambulances as targets. Consequently, their protection was enhanced by hiding the Red Cross markings, fitting an additional armor nicknamed "sharkskin" and a CB 52 weapon station mounting a 7.62mm AAN-F1 MG.
For this build, I used the driver station from Blast Models as well as the detailing set from the same brand. The Heller engine deck being a bit coarse, it has been replaced by a Blast Models part. The observation casemate is from a Azimut conversion. The CB 52 weapon station is a Azimut reference too.
The add-on armor is composed of a coat of ceramic tiles and a rubber envelope. The ceramic coat is represented by 1mm thick plastic card. The envelope is made of 1/10mm lead foil.
To conclude with the build, Blast Models Michelin XML wheels are installed as well as the new type rear mirrors coming from FafaModelKit.
The decoration
The VAB got a NATO three-tone coat over the parts which were not covered by the "sharkskin". The latter is painted sand and dark brown. The weathering was done with some oil dots drawn downward then with a wash followed by a drybrush. Finally, the whole vehicle was covered with dust.
Index
---