VAB Gendarmerie
Ref : Heller #81130
Model and text by Didier Lecru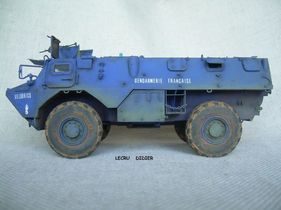 This model depicts one of the VABs used for the security of the French ambassador in Lebanon in the 80s. These VABs were lent to the Gendarmerie by the Army.
This is the Heller kit to which some modifications have been made. I used no aftermarket resin kits which are too expensive in my opinion. The driver compartment has been redone like the real one. concerning the rear compartment, I didn't change anything. The cupola is totally rebuilt. The engine top, the exhaust covers, the windshield, the wipers and the headlights are redone. On the roof, some fasteners have been added. The waterjets have been suppressed.
The vehicle is first painted white. The recessed lines are painted black. Then the whole model is covered in a blue shade the closest as possible to the Gendarmerie blue. I tried to apply chipping painting with khaki green. The letters are dry transfers. The license plates come from the spare parts box. The weathering is made with white filters. Finally, I added brown shades with dry pastel powders.
Index
---