P4
Ref : Azimut P4 Staff car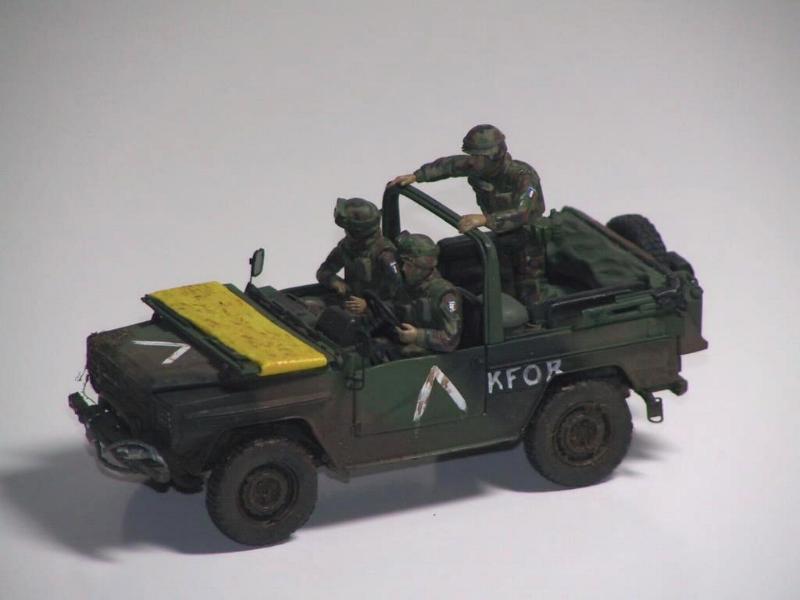 The VLTT P4 (véhicule de liaison tout-terrain/ all terrain liaison vehicle) replaces the old Willis jeep .
It is in service with all the French army units.
The resin kit is released by Azimut and also comprises some photoetched parts and a small decal sheet.
The building is quite easy with a difficulty in the chassis area. The mistakes mainly concern the floor which is too high inside the hull. Some easy to achieve improvements may be done (Camo screen support on the spare wheel, various handles, detailing of the inner face of the doors). The lack of the FAMAS supports is more embarrassing due to their very specific shape.
The lack of the radio set chassis and the radio sets themselves is noticeable, all the more than few manufacturers are prone to get involved in such a typical French topic.
The crew is also from Azimut/ADV. The driver has been slightly annoying to get onto his seat. Others fit well.
The equipment in the rear compartment comes at the same time from an Azimut set for the VAB and various homemade elements. It includes F1 rucksacks, backpacks, first aid kit and the case of the ground to air signal panel in place over the windshield.
---