Leclerc S2
References Tamiya #35279 Leclerc series 2
Tamiya #35280 Leclerc photo-etched parts set
Blast Models #BL35138K - Update Leclerc Serie 2 Tamiya
Blast Models #BL35079F - French tank crew summer MBT Leclerc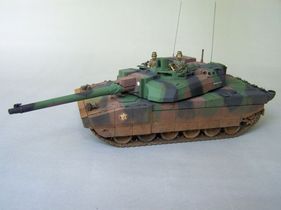 The Tamiya Leclerc series 2 is an excellent model but like all other plastic models it misses a number of details. In some cases, it is a regrettable omission from Tamiya as the Japanese manufacturer had a direct access to the real tank. For many other details, it is just a matter of rivet counting as we say in the modeling world.
Having drawn a list of the mistakes and omissions (the booklet is available in the section Reviews/reference), I had to use it to build my model. For the grilles and baskets, I chose the Tamiya photoetched sheet. It is a minimum for the one who wants to limit its budget. However, the Voyager Models set is far more complete and also allows to make several parts either in PE or in resin that are also present in the Blast Models resin upgrading set. Buying both sets looks useless.
For easiness, I used the Blast Models set which saves time. If the quality is standard of the brand, you need to modify 2 of the fuel brackets #28. In fact, on the Tamiya model the inserting slots have a different shape on two of the brackets while Blast Models made 4 identical brackets. Moreover, unlike what state the instructions, you mustn't glue the parts #31 on the inner side of the air conditioning unit. These are the only mistakes of this excellent set.
In addition, to get the result I desired, I also had to use some plastic card, different diameters styrene rods, head bolts of the brands Grandt Line and Master Club and some thin metal wire.
For the building, I direct you to the pictures and the booklet mentioned above.
For the decoration, I use the following Tamiya colors: XF-5, XF-64 and XF-1. The NATO colors do not match the ones in use in the French Army unlike what claims the painting guide. Moreover, the guide has a little mistake in the camo scheme. In fact, on the left side, the second brown stripe on the chassis must be extended over the turret in a triangular shape.
The decals come from the Echelon sheet dedicated to the Leclerc MBT. Those are very thin and require caution when handling. Echelon also issued numerous technical labels.
The weathering was realized with a slight wash of Burnt Umber and a drybrush of grey on the black areas. The dried earth and the dust are created with different shades of pigments.
The crew members are made by Blast Models. The flesh parts are painted with oils while the uniforms are painted with Tamiya paints.
Index
---