ERC 90 Sagaie
Ref : Azimut ERC90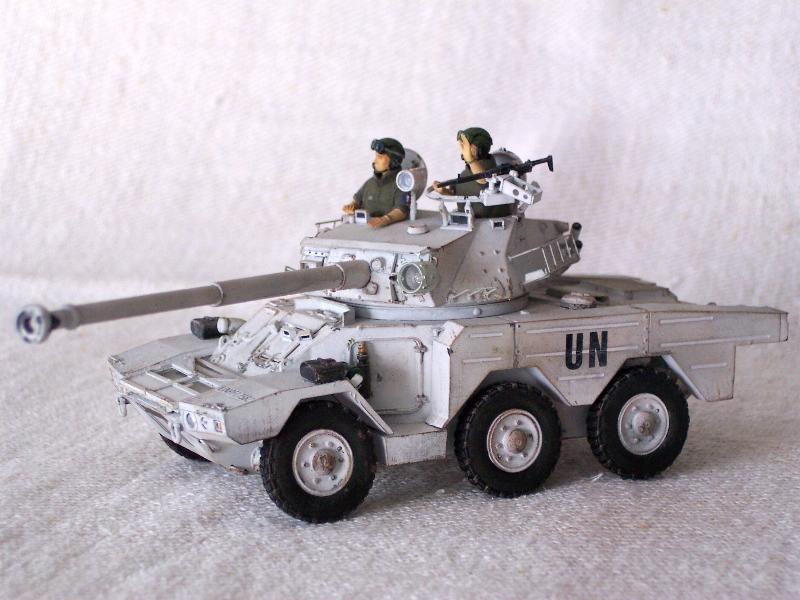 The ERC90 Sagaie is an amphibious light armored vehicle designed for reconnaissance missions. It has been in service with the French army since 1984 in the armored units of the light divisions and brigades as well as in the units stationed overseas. It is equipped with a 90mm gun capable of firing APDSFS rounds. It has a fire control system associated to a laser rangefinder. It is manned by a crew of 3.
It has recently been upgraded and fitted by a missile jamming device. Its major drawback is its petrol engine whereas the rest of the vehicles are equipped with diesel engine. However, it has the capacity of being air-transportable.
The kit is produced by Azimut. Like the AMX10 RC kit, it is mainly composed of a resin block for the hull on which are fixed the various accessories and the turret.
The building is uneasy and the fit needs several blank tries before gluing. The running gear proves to be the most difficult part to build due to the weight resting on the suspension arms. The photoetched parts are easily bent and really add value to the kit.
Once again, Azimut offers no decoration at all. Despite the building troubles, this vehicle must be part of any French materiel collection as it is still in service and has been involved on many theaters of operations.
---