AMX30 B2 Brennus
Ref: Heller # 81137 AMX30-105
Heller # 81157 AMX30B2 Upgrade
ADV/Azimut # 35129 AMX30B2 Op Daguet conversion set
Phebus # 35VM009 AMX30B2 Brennus conversion set
Eduard # 35221 AMX30/105
Gumka AMX30 track set
Plastruct/Evergreen plastic rods/stripes

Model, pictures and texts by Bill.W.L.Poon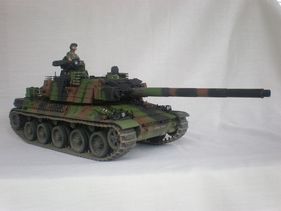 Prolog
Before I begin, I would like to thank Mr Olivier Carneau, this model would not have been completed without his help.
The Tank
AMX30: It was designed by GIAT and delivered to the Army in 1966
AMX30B:1st upgrade applied in 1971~72
AMX30B2:2nd upgrade applied and entered service in 1982
AMX30B2 Brennus:3rd upgrade applied in 90's,with ERA blocks
The Model
Allow me to share some experience of the kit/conversion sets/upgrade sets with you first, please?
1) Heller AMX30-105: 70's quality standard.
2) Heller AMX30B2 Op Daguet: It is a AMX30-105 kit + a bag of resin 'upgrade parts'+ a new PE set.
The resin 'upgrade' set is actually the old ADV/Azimut AMX30B2 Op Daguet upgrade set with a few newly made parts (such as a new driver hatch, automatic cannon support...etc), those new parts are very useful, the new PE set is nice too.
Parts used: 3, 1 with heavy reworking.
3) ADV/Azimut AMX30B2 Op Daguet conversion set: 90's quality standard, molding quality is so so, with some serious fitting problems.
Resin parts used: 3.5*,all with heavy reworking.
PE parts used: 3.
4) Phebus AMX30B2 Brennus conversion set: The master maker has done some serious research on the set but, unfortunately, the molding quality is a real let down, bubbles, broken parts, mis-molded ...etc are all over the place, it kind of reminds me of A?F.
Parts used: 15.5* (with different level of reworking) & frontal armor blocks (with serious reworking).
Total parts in the set: 102
5) Eduard AMX30 PE set: 90's quality standard, most parts are wrong and useless.
Parts used: 5.
6) Gumka AMX30 track set: A very nice set in my personal opinion, nice details with no shrinkage, easy to build.
The Build
Since the resin upgrade/conversion sets are not very helpful in this project, therefore I have to do loads of scratch building by Plastruct/Evergreen rods-stripe.
ERA blocks:
Allow me to start with the frontal array: A total of 31 blocks. The Phebus one are quite bad in quality, bubbles, mis-molded, nuts missing……etc, etc. I have to sand away everything on the surface, get rid of some bubbles, tidy up the 'gap' between each block and most importantly, remake the nuts/bolts on each block with Plastruct/Evergreen. After I have got everything done, I tell myself that there's absolutely NO WAY that I'd repeat doing EXACTLY the same action for another 81 time for the turret. Therefore I make a ERA master by Plastruct/Evergreen and have it 'mass-produced' by a resin guy.
Painting
Green: Gunze 340+135,ratio:50/50 or 40/60 depending on personal taste;
Brown: Gunze H37:Do NOT use the Gunze solvent based equivalent since they are NOT in the same color;
Black: Gunze NATO black
Conclusion
Heller is the only game in town, let's hope the big boys in China and Japan would give us a new AMX30 one day.
Never give up hope.
*the coaxial cannon is a 'hybrid' of Azimut-Phebus part.
Index
---