AMX 10RC
Ref : Azimut AMX10RC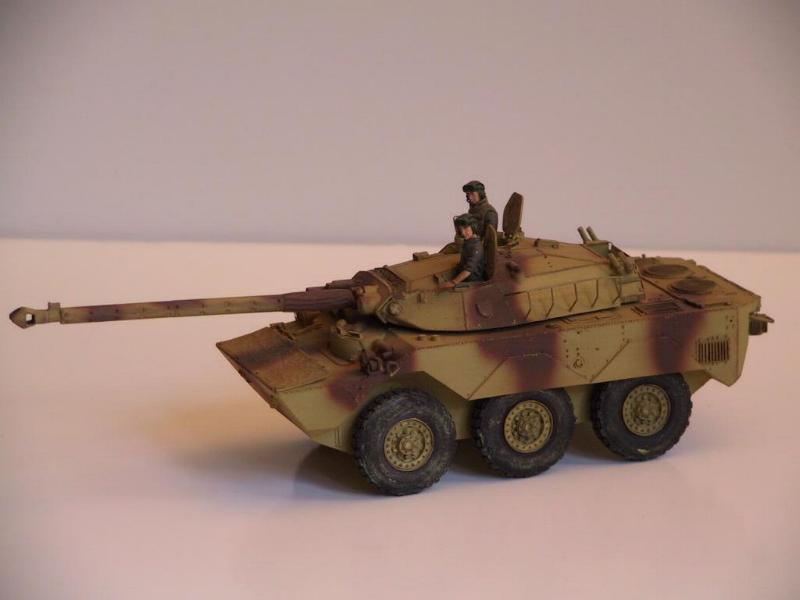 The AMX10 RC is primarily an amphibious reconnaissance vehicle purposely designed for the cavalry regiments and the armored regiments of the infantry and the light armored divisions. It entered service with the French army in 1982 and replaced the AML 90 and the EBR.
It mounts a 105mm gun capable of firing APDSFS rounds. It is manned by a crew of 4. Its low profile and its oleopneumatic suspension make of it a small target. Its steering system is similar to the one of MBT's which enables it to pivot on itself.
After the Gulf War, it has been upgraded with an up-armor kit. A new upgrading program is under development, it concerns the motorization, the protection and the turret.
The kit is produced by Azimut. It comes as a big resin block on which are installed the turret ad the wheels. Few accessories are in white metal (tools, driver hatch axis...) and other in photoetched brass (turret stowage bins, waterjets...). The carving is good and the kit is detailed and accurate.
It builds well once the parts have been prepared. However, the overall weight demands a little attention when assembling the wheels to make sure they are properly aligned.
Due to the small number of parts, the instructions come in just one page and comprise the three-tone camo and the desert camo. Azimut offers no decoration at all.
The French army sand paint is a mix of Tamiya XF60 Dark Yellow and XF3 Flat Yellow. The brown reference is XF64 Red Brown.
The crew members are from a ADV set. The carving is correct and the busts fit well in the hatches opening.
---