FV 510 Warrior
Ref Accurate Armour #K36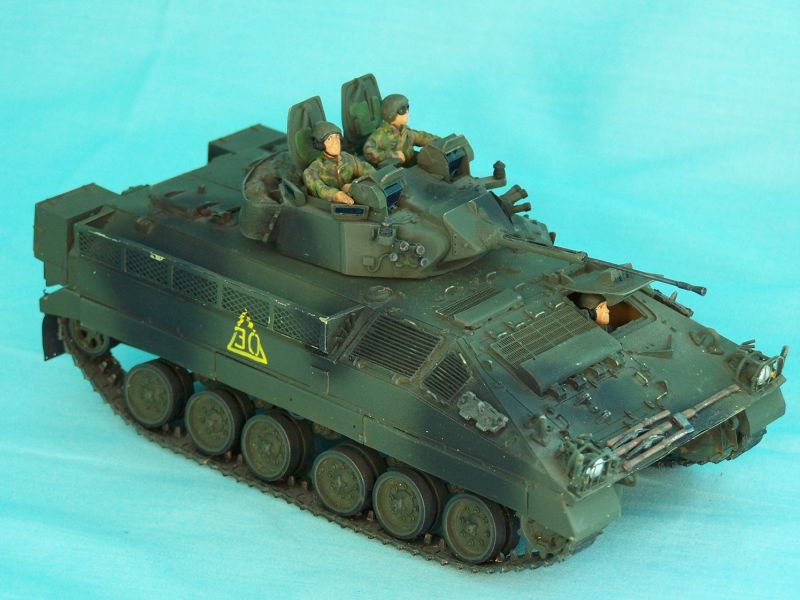 The Accurate Armour kit no longer listed on their catalogue has been the very first kit available in the early 90s. It depicts an early vehicle without the add-on armor. It is composed of 178 resin and white metal (mainly for the running gear and the cannon) parts, 40 photoetched parts, some brass wire for the 19 handles and 2 mirrors poles and a bit of plastic rod.
The instructions come in a small 12-page booklet which gives general instructions and some advices then split the build into 9 main steps with clear drawings. The 3 last pages are dedicated to the painting explanations (without any scheme) and present the vehicle background before giving a list of all the kit parts.
The level of detail is very good and the cast of high quality. The fit is without any problem and only a minimal use of putty is required. Accurate Armour do not provide decals so we need to look for spare decals or make our own markings.
The build starts with the hollow turret which comes with no interior except the sights. The rear bin is solid and reproduces the mesh very well. The sights protections can be shown open or closed like the hatches the inner faces of which are well detailed with separate handles. The Rarden 30mm cannon and its mantlet are in white metal and perfectly fit.
The next step concerns the lower hull and the running gear. The roadwheels arms are separate parts which allows to show a vehicle on rough terrain. The resin tracks are in lengths with some individual links to fit around the sprockets. Accurate Armour provide more links than necessary. The setting of the tracks is a tricky moment which requires patience and a good hair-dryer!
The upper hull is hollow and allows to show all the hatches open even if no interior is provided. The fit of the various parts is excellent including the photoetched ones. Some parts are very thin and fragile and will require some attention not to be broken. The side skirts come in 5 different parts each which enable to remove eventually some of them.
The decoration is simple with large black stripes applied over a dark green base. The markings are issued from the Academy kit or hand painted. The crew is the Accurate Armour reference #FS04 Modern UK Warrior crew (tank helmets).
Index
---