FV 107 Scimitar
Ref : AFV Club #AF35013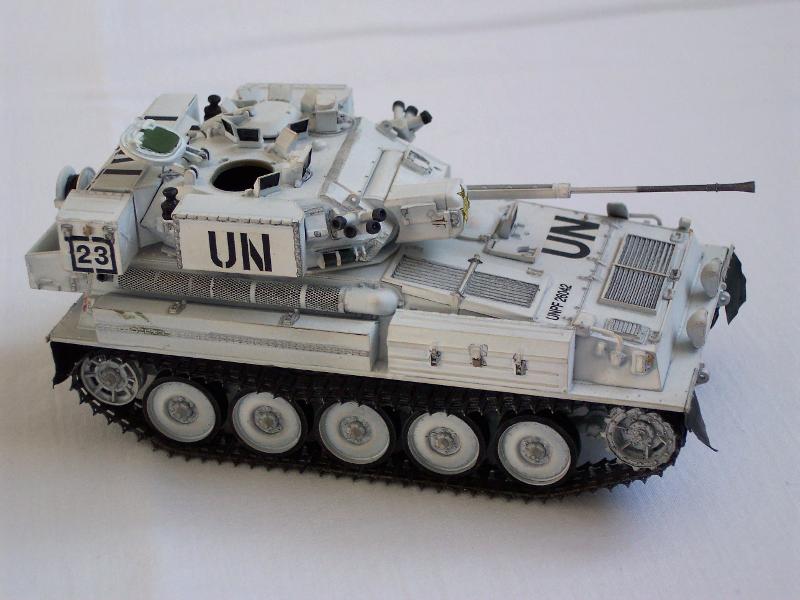 The Scimitar is a variant of the FV101 Scorpion which entered service from 1974. It is mainly used by the British Army and also by the Belgian forces.
It has the same hull as the Scorpion but mounts a Rarden 30mm automatic gun with a range of 4000m. It has a crew of 3.
The kit is issued by AFV Club and used a large amount of the parts of the Revell Scorpion kit. It comprises 6 sprues, a metal barrel, a rather stiff steel photoetched parts sheet, soft vinyl tracks and a decal sheet enabling 3 decorations scheme for the British Army and 2 for the Belgian Army.
The carving is very good with a good level of detail as usual with this manufacturer. The cast is top quality.
The building is quite easy thanks to a clear 12 page notice. The fit is good and only needs the cast seams sanding.
The chassis does not generate any trouble even if the parts are thin. The light weight of the kit will not risk breaking the running gear. The soft tracks are well cast and enough detailed but they are too short to figure the natural sag clearly visible on the pictures. This will be fixed either by gluing the central portion to the roadwheels or by setting pieces of metal rod in the hull sides. Having chosen a UN decoration, I used the former method.
The hull builds without trouble according to the notice. The headlights are improved by adding a drop of Crystal Clear to figure the glasses. The exhaust protection is shaped around a paintbrush shaft. The stowage bin does not get its tarpaulin which is too thick. It is replaced by a piece of tissue paper soaked with while glue. Some pioneer tools are laid in the bin instead of being at their location on the hull sides. The mud flaps are replaced by tin foil on which is glued the kit bolted brackets that have been thinned. The rear ones get the reflectors from the kit parts.
The turret is slightly improved with the detailing of the hatches inner faces. The two-part barrel cradle seam must be sanded. The rest does not need any commentary.
The decoration scheme represent a British vehicle in UNPROFOR service in Bosnia. The decal on the gunner sight requires some softener like Microsol to enable a perfect fit to this complex shaped part. The weathering is light and the vehicle remains quite clean.
---