BMR 600
Ref Nimix BMR 600 P.P.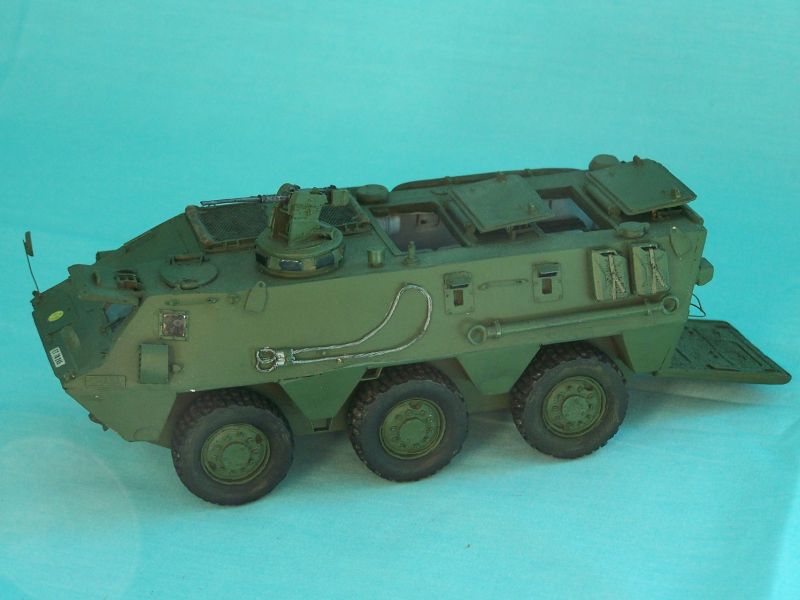 The BMR 600 PP has been in service with the Spanish army as the standard armored personnel carrier since 1979. Its chassis is used by numerous variants (command vehicle, ambulance, reconnaissance ...). It mounts a 0.50 cal MG operated from inside. It is amphibious and protected against NBC weapons. It can carry 13 soldiers.
The kit issued by Nimix comprises 110 resin parts and 70 photoetched ones. The cast is average with numerous air bubbles on most of the parts. The details are average too. The instructions come in a dual A5 sheet splitting the build into 5 steps. Nimix do not provide decals.
The building
It starts by the preparation of the resin parts and more particularly the reshaping of the hull halves. The bravest will try to fill the numberless bubbles. When I built this model, many years ago, I neglected this step. Thus, this build is not exemplary at all but it shows how the kit is when built strictly from the box !
The build of the interior is not a problem as the instructions, even being very simple, are clear enough. The hardest is to sort out the parts which are not numbered. All the hatches can be fixed opened so the interior remains clearly visible.
The exterior build starts by the assembly of the hull halves. An intense use of the hair-dryer has been necessary to get a satisfactory fit. Then, we must fill the gaps with some putty.
Once this done, we jus have to follow the instructions and glue the parts on their location marked on the hull. The photoetched parts are sometimes thick thus the bending is tricky.
The remote controlled turret is in 4 parts without any alignment mark. The MG is in 3 parts which does not facilitate the barrel alignment too.
The decoration
The vehicle is painted olive green. The interior is light sky blue. The markings are done with dry transfers.
This kit is not recommended for beginners (which I was when I built it). We can hope that Nimix managed to fix their problem of air bubbles on their current models as this is not what a modeler expects today from a resin kit.
Index
---