M163A1 Vulcan
Ref : Italeri #269
Eduard #35103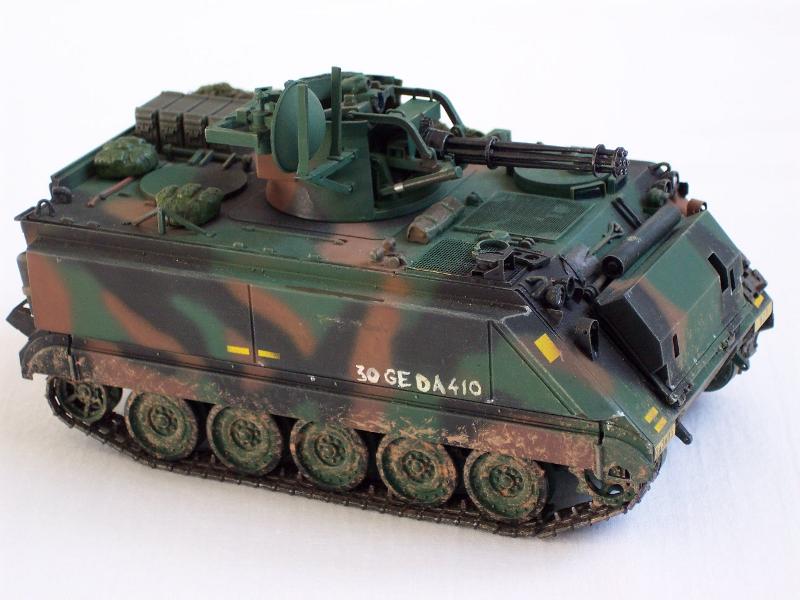 The Vulcan is a self-propelled tracked anti-aircraft system combining an electric-powered turret mounting the M157 6-barrel 20mm rotating gun on a M113 chassis. The gun is a variant of the M61 gun mounted on the US Air Force aircraft. It is associated to a short range-only radar and an optical sight coupled to a computerized fire control system. It has no night operating capacity.
The vehicle contains 1100 rounds ready to fire plus 1000 more stowed. The range is 1600m in the AD role and 3000m in a ground support role. It has a crew of 4 of which only the gunner is in the turret.
The Vulcan is currently being phased-out and replaced by the Avenger and the Bradley Stinger Vehicle (pending the fielding of the M6 Linebacker).
The kit is produced by Italeri and comes in 3 sprues and a decal sheet enabling one decoration for a US Army vehicle and one for a Saudi Army one.
The carving is quite good and the cast as well. The detail is satisfying but Eduard photoetched set brings a lot to it.
The 8 page instruction leaflet is clear and comprises 12 steps.
The build begins in a classical way by the chassis and encounters no difficulty. The running gear comes in individual link and length tracks which will be installed later on. Each individual link shoe has a sink hole to eliminate.
The turret is enhanced thanks to the PE set. Italeri very basic interior is completed. The gun feeding lines are replaced by Eduard ones which are far more realistic. The stowage bin is thinned, and a tarpaulin is stowed inside. The radar protection slats are thinned too.
The hull is assembled according to the instructions. Few modifications are done. On both sides under the main headlights, a small light has been forgotten by Italeri. Its protection is added but the light itself is omitted. The headlights guards are not installed to customize my model. A camo net is done with Verlinden netting soaked with white glue then painted. The straps are done from tin foil.
The decoration represents a vehicle of the US Army 3rd AD in Germany. The movement ID numbers are freehand painted although Italeri issue the decals. The camo scheme is the NATO 3-tone one. This model being painted before Tamiya released their NATO range, the following shades have been used : XF1 Black, XF64 Red Brown et XF58 Olive Green.
Références :
US Army :
FAS
Wikipedia
Olive Drab

IDF :
Webshot Gallery

---