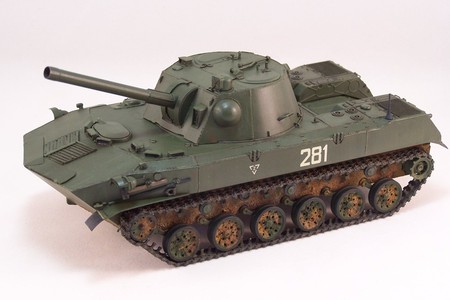 2S9 Nona-S
The 2S9 Nona-S is a self-propelled 120 mm mortar. It was originally developed for the airborne troops on the basis of the BTR-D. The naval infantry was issued a modified version. It entered service in 1981. It is assessed that approximately 1000 vehicles have been built.
Its armament is a breech loaded 120 mm mortar. It can be used as a mortar or a gun. It can fire explosive, incendiary, smoke and armor piercing rounds. Its maximum range with standard rounds is 8800 m and 12800 m with rocket assisted rounds. The ammo load is 25 rounds (40 for the naval infantry version)
Its aluminum hull makes it fully amphibious and protects the crew against small arms fire and shell splinters. The 2S9 is protected against NBC agents and is equipped with a fire suppression system. Its hydropneumatic suspension allows to adjust the ground from 110 to 450 mm. It can be transported by plane and airdropped.
The crew of 4 is composed of a commander and a driver located in the hull and a gunner and a loader in the turret.
The 2S9 has been deployed to Afghanistan and Chechnya where its maneuverability and its gun were highly appreciated. It still is service in Russian and in several countries of the former USSR.
Read more ...