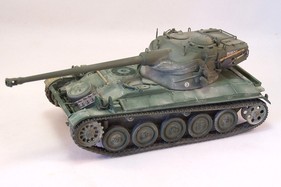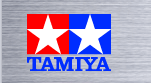 AMX 13/75
The AMX 13 was designed as an air transportable tank by the Issy les Moulineaux factory which determined its small size and its light weight to keep it loadable on board of the transportation aircraft.
However, the project of an air transportable tank was soon cancelled and the AMX 13 was issued to armored reconnaissance units.
Its design included several novelties like the oscillating turret and the autoloader which allowed to limit the crew to three. Its main armament was the 75 mm SA 50 gun which was derived from the Panther gun. The autoloader was fed by two rotary magazines of 6 armor piercing rounds each which were located at the rear of the turret. The reloading of the magazines was done from the turret roof. The manual loading was possible and it was mandatory for the explosive rounds.
The secondary armament originally was a 7.5 mm MAC 31 coaxial MG.
Built from 1951, the production AMX 13 had 4 types of hulls (2A, 2B, 2C and 2D). It underwent 2 main upgrade programs (1R and 2R) for the hulls 2A to 2C. The turret also evolved in the gun controls and to accommodate the 90 mm gun too or SS 11 antitank missiles ramps.
The AMX 13 had a long operational life in the French forces but also in foreign armies where in 2017 it is still in service. About 7.700 vehicles have been built. The AMX 13 has also been the base for a large family of vehicles including APC, engineer vehicle, armored ambulance, self propelled guns, anti aircraft guns and a recovery vehicle.
Read more ...