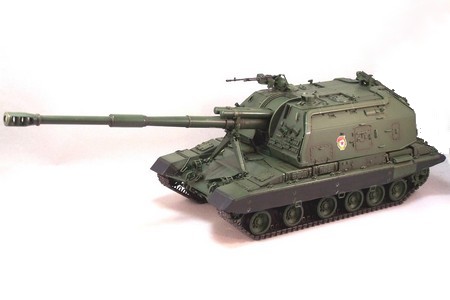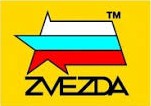 2S19 MSTA-S
The MSTA-S or 2S19 replaces the 2S3 in the Russian artillery. It entered service in 1989 within the divisional artillery regiments. The 2S19 is designed with a T-72 hull and engine but utilizes the T-80 running gear. The 13-ton turret accommodates 4 crew members: the vehicle commander, the gunner and two loaders. It protects the crew against small arms fire and artillery splinters.
Its 152 mm 2A64 gun can fire any type of rounds (high explosive, illuminating, smoke, antitank, Krasnopol ...) up to 36 km with rocket assistance. The loading system (separate charge and shell) allows a rate of fire of 6-8 rounds per minute. A manual loading system which is installed externally, allows to fire without using the internal ammunition. A total of 50 rounds are stowed. An auxiliary power unit and a NBC filtration system are also present in the turret.
As secondary armament, the 2S19 mounts a remotely-operated 12,7 mm NSVT MG. It also had 6 smoke-grenade dischargers.
From the experience of the conflict in Chechnya, the fire control system was modernized and automated. The upgraded howitzers are named 2S19M1 and entered service from 2008. An export version featuring a 155 mm gun has also been developed. In 2012 a new version 2S19M2 has been developed. It benefits of a new fire control system and an increased rate of fire of 10 rounds per minute, and reportedly could fire simultaneously several rounds on the same target.
Russia has fielded approximately 600 2S19 and used them during the both wars in Chechnya and in South Ossetia in 2008. The 2S19 is also in service in 7 countries from which Ethiopia which used it in the war against Eritrea.
Read more ...