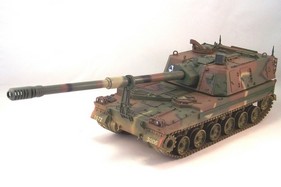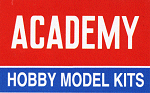 K9 Thunder
The K9 Thunder self propelled gun has been developed to replace the M109 in the Republic of Korea army. Its development started in 1989 and the first prototypes were completed in 1994.
It entered service in 1999. Currently about 300 guns are supposedly in service in South Korea. Finland also recently adopted the K9.
The K9 mounts a 52 caliber 155 mm gun. It can fire up to 30 kms with the standard HE round and up to 40 kms with the rocket assisted round. It rate of fire is 2 rounds per minute with a maximum of 6 rounds per minute or 3 rounds in 15 seconds.
The K9 is fitted with an automatic fire control system including an internal navigation system and a gun laying system. It can fire within 30 seconds from a prepared position or 60 seconds from the move.
The vehicle is protected against some caliber and artillery splinters by a welded steel armor. It also features a NBC protection system. For its self-defense, the crew has a 0.50 cal MG mounted at the vehicle commander station.
The crew consists of five : a vehicle commander, a gunner, an assistant gunner, a loader and a driver.
Read more ...