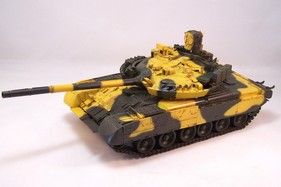 T-80 UM-1 Bars model 1997
The T-80 UM-1 Bars basically is a T-80U fitted with the active defense system Arena. Compared to the early T-80, the reactive armor Kontakt 5 is build-in with the new laminate armor and no longer added as extra armor unlike on the T-80BV.
Amongst other modifications, one can notice the Brod-M deep wading trunk fixed to the turret rear and the auxiliary power unit AB-1-P28 on the rear left of the hull.
In the early 1990s, the T-80U was fitted with a new fire control system and thermal imaging sight Buran-P for the gunner which gave the capacity to fire the newer 9M119M Refleks-M missile.
In 1997, the Arena system which was developed by KBM (Kharkov design bureau) has been deployed in an experimental series of T-80 UM-1 Bars. Arena is a set comprising a mast for an active radar, IR passive sensors, laser warning receivers and explosive charges. The radar operates in the millimeter wave band. Wen it detects an incoming missile, it transfers the information to the inboard computer which selects the charge to fire. This one is launched in the air and detonated by a trailer wire. The metal fragments from the explosion destroy the missile before the impact.
The T-80 UM-1 Bars is armed with a 125 mm 2A46M-1 gun, a 7.62 mm PKT coaxial MG and a 0.50 cal NSVT MG mounted on a pedestal on the turret roof. It also can fire 9M119M Refleks-M antitank missiles.
Like in the whole T-80 family, the crew is downsized to three members thanks to the autoloader.
Read more ...