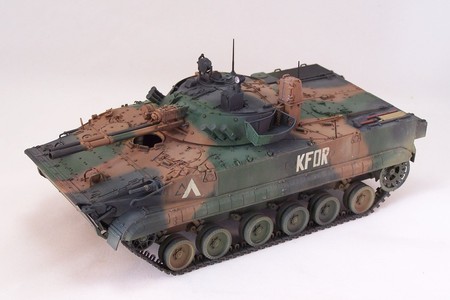 UAE BMP-3
The BMP-3 development started in 1981 and the vehicle has been adopted by the Russian army in 1987. Its entry in service was a slow process and the total number of BMP-3 in the Russian army is estimated to approximately one hundred. However, the BMP-3 has been a real success on the export market with around 580 vehicles sold to Cyprus, United Arab Emirates (UAE), Kuwait and South-Korea.
The BMP-3 has an outstanding firepower compared to the standard IFVs. It is armed with a low pressure 2A70 100mm gun firing standard rounds but also laser guided 9M117 missiles. The coaxial 2A72 30mm autocannon complements the main armament. One 7.62mm PKT MG is also fitted coaxially in the turret and two more PKT are fitted in the hull on both sides of the driver.
The crew comprises a vehicle commander and a gunner in the turret, a driver, two PKT gunners and a squad of 5 infantry soldiers.
The version purchased by the UAE is different from the basic version. It includes insulation applique on the roof, air-conditioning and an improved fire control system including the Namut French thermal sight. The UAE BMP-3s also have additional stowage baskets around the turret and the 30mm gun has been noticeably extended. UAE purchased 448 vehicles as well as the recovery version BREM-L.
In 1999, for the NATO operation in Kosovo, UAE deployed within KFOR a mechanized battalion partly equipped with BMP-3s under command of the French brigade.
Read more ...